Table of Contents
Introduction
Windows 11, the latest operating system from Microsoft, has taken the tech world by storm with its sleek design, enhanced performance, and a range of exciting new features. One of the standout features in Windows 11 is the Widgets feature, which allows users to access information, tools, and apps at their fingertips, right from the desktop. In this comprehensive guide, we will explore the top 10 must-have Windows 11 widgets that can enhance your productivity, streamline your daily tasks, and make your computing experience more enjoyable.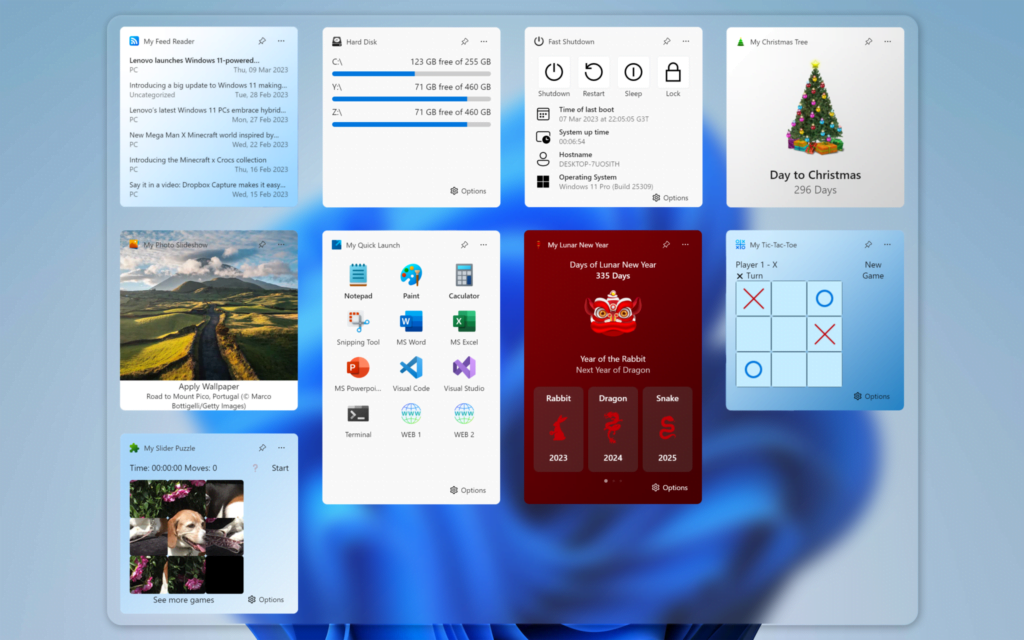 Hello Next Generation – Windows 11
Top 10 Must-Have Windows 11 widgets
1. Battery Meter
The Weather Widget: Bringing Sunshine to Your Desktop
The Battery Meter Widget is a handy tool that provides real-time information about the battery level of your current device. So you know how much percentage of energy can be used. With a beautifully designed progress bar, you'll never be caught off guard by the unexpected sleep mode of your computer again.
Get the Battery Meter Widget here
2. CPU Check Widget
Stay informed with the current CPU usage Widget
The CPU Check Widget in Windows 11 helps you see the CPU usage, overall and per-thread activity, clock rate, etc.
Download the CPU Check Widget now
3. Network Usage Monitor Widget
Stay Informed with the network Widget
The Network Usage Monitor Widget displays network stats, up/download speeds, and IP address.
Get the Network Usage Monitor Widget here
4. Note Sidebar Widget
Write Your Personal note from the note Widget
The Note Sidebar is a handy widget to write your personal notes or meeting notes from the Windows 11 widget panel. And that any time of the day you update your note and export it to a txt file.
Install the Note Sidebar Widget here
5. Fast Shutdown Widget
Power off your computer with the Fast Shutdown Widget
The Fast Shutdown widget lets you control your device from one panel. Where you can shut down, restart, sleep, or lock your device with a single click.
Get the Fast Shutdown Widget now
6. Hard Disk Widget
Monitor your storage usage with the Hard Disk Widget
The Hard Disk widget lets you see an overview of your internal storage usage. So you have in one eye blink the overview of all your storage. And how much used and stored is available.
Download the Hard Disk Widget here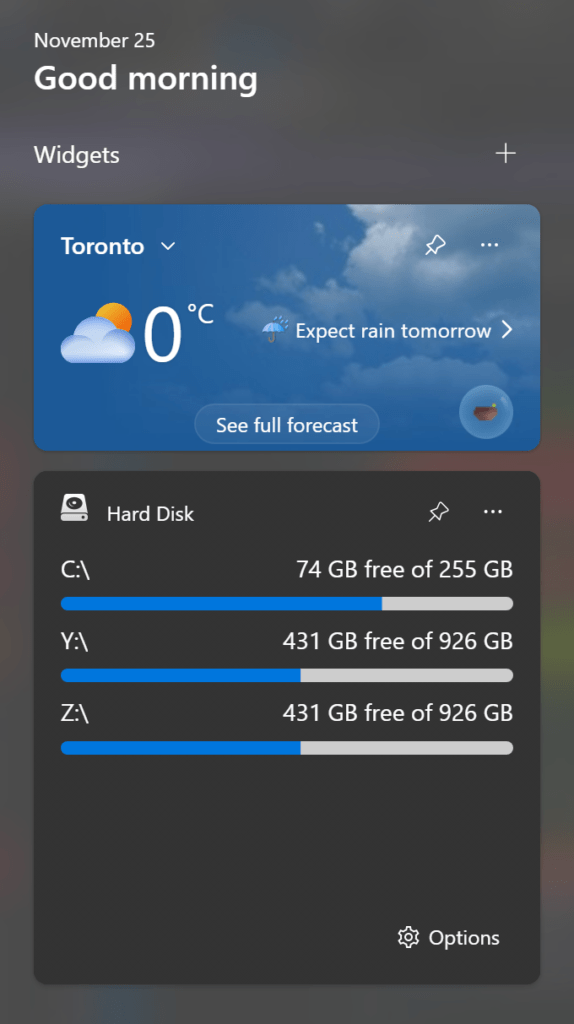 7. Memory Check Widget
Optimize Your PC with the Memory Check Widget
Keep an eye on your system memory usage with the Memory Check Widget. Monitor RAM usage in real time. That is to check physical and virtual memory consumption, paged and non-aged pool values, etc. This widget helps you identify resource-hungry applications and keep your PC running smoothly.
Install the Memory Check Widget now
8. My Christmas Tree Widget
Decorate your device with the Christmas Tree Widget
The My Christmas Tree Widget is perfect for making Christmas come to life on your Windows 11 device. That with your personally chosen tree and animated Christmas lights and glowing stars.
Get the My Christmas Tree Widget here
9. My Slider Puzzle Widget
Fun puzzle game with the My Slider Puzzle Widget
The My Slider Puzzle Widget is a fun puzzle to has the strategic and visual memory needed to solve this puzzle. So a real brain training to shift your work a mini-game on your Windows 11 widget panel.
Download the My Slider Puzzle Widget now
10. Atomic Clock Widget
See the current time from the clock Widget
Make the widget panel complete with your personally designed digital clock on the panel. With a blink of your eyes, you can see the current time in an artistic and beautiful widget.
Install the Atomic Clock Widget here
The potential widgets you can experience today
Come from a single developer named "Stefan vd." And while the collection of available widgets is interesting and shows their potential, a larger body of more capable and sophisticated gadgets is available – all for free, too.

Ed Tittel – Tom's HARDWARE | Press from June 29, 2023
Where to download the other 3rd party Windows 11 widget?
You can download more unique, amazing, and beautiful widgets on the Stefan vd Windows 11 widgets project.
Conclusion
Windows 11 Widgets have revolutionized the way we interact with our computers. These 10 must-have widgets cover a wide range of needs, from staying informed about the weather to optimizing your PC's performance. Incorporating these widgets into your Windows 11 experience will undoubtedly enhance your productivity and make your computing life more enjoyable.
FAQs about Top 10 Must-Have Windows 11 widgets
How do I add widgets to my Windows 11 desktop?
To add widgets to your Windows 11 desktop, click on the Widgets icon in the taskbar, then click on "Add Widgets". From there, you can browse and select the widgets you want to add. On the bottom of that panel, you can open the Microsoft Store to open the Windows 11 widget collection page.
Can I customize the widgets on my desktop?
No, currently the Windows 11 widgets are only available in the widget panel.
Are these widgets free to use?
Not all the widgets are free to use. However, the premium provides a high-quality experience that you do not see in a free widget. And the most customizable option for your personal touch.