Microsoft Windows 11 introduces a new widget feature that allows you to view information at a glance, such as news, weather, and your calendar, on your desktop. The Windows 11 widgets are customizable, so you can choose which ones you want to display and how they're arranged.
The widget feature was first introduced in the Windows 11 Insider Preview Build 22000.51, which was released on June 28, 2021. It has since been included in subsequent builds and is available in the stable release of Windows 11.
To access the widgets, click on the Widgets icon in the taskbar or press the Windows key + W on your keyboard. From there, you can customize the widgets and add or remove them as you like.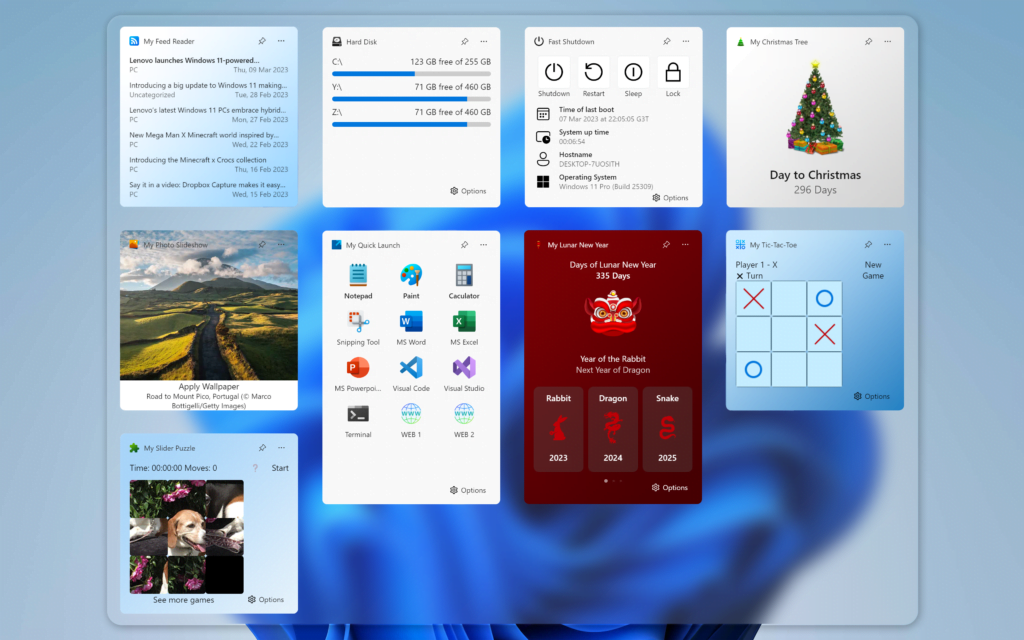 New Windows 11 Widgets
Today, I launch my nine exciting new Windows 11 widgets that promise to bring more fun and functionality to users. These Windows 11 widgets include My Lunar New Year, My Christmas Tree, My Photo Slideshow, My Quick Launch, My Tic-Tac-Toe, Hard Disk, My Slider Puzzle, My Feed Reader, and Fast Shutdown. In this post, we will explore each of these widgets and their respective functionalities.
These Windows 11 widgets are designed to enhance the user experience by providing fun and practical tools that can help users stay organized, entertained, and informed. They are easy to use, customizable, and offer a range of features that are sure to appeal to a wide range of users.
Windows 11 Widgets YouTube videos
I created a demonstration video of all my Windows 11 widgets, that will showcase their features, how it works, and any customization options you have added.
Do not forget to Like and Subscribe to my YouTube Channel for more great upcoming Windows 11 Widgets.
Conclusion
In conclusion, the launch of these nine new Windows 11 widgets is a welcome addition to Windows 11. Whether you're a gamer, a casual user, or a tech enthusiast, these Windows widgets are sure to provide you with endless hours of fun and functionality. And if you need any help, suggestion, or feedback. Please do not hesitate to contact me using my support page.