Introducing my most beautiful Safari extension is now available in the Apple App Store. The Home Tab for Safari is a Safari Extension that replaces your new tab page with a big current time and date on top. That with your chosen wallpaper or your own chosen custom background image. With the option to show your favorite shortcut. Which is available for iOS 15 and macOS 12.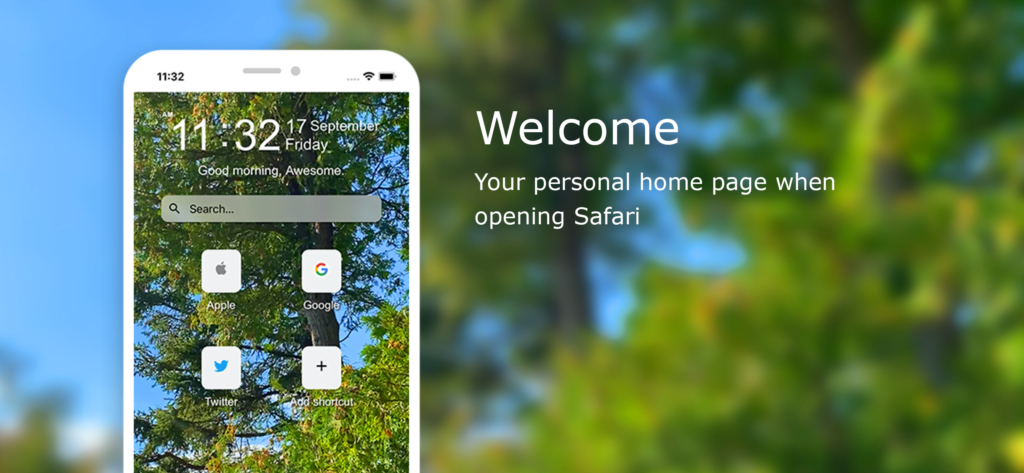 Customizable Home Tab
When you open your Safari web browser on the Mac or on your iOS device. You will be personally greeted depending on the current time of the day. Which will brighten up your day when opening your web browser.
Everything can be customizable to your personal touch and feel so that it gives your personal authentic style. For example, you can toggle on or off the current time and date, greeting, search box, and shortcut. And you can choose up to 5 built-in wallpaper where I shot this photo on my personal iPhone device.
The Safari extension is designed for users who want to be productive on the internet and get the information they want to see at a glance. That makes Home Tab the best start page for Safari. This useful and premium Safari extension works across macOS, iOS, and iPadOS.
Home Tab for Safari extension features:
See a landscape as the background in your new tab page, which includes 5 immersive backgrounds: Forest, Sea, Port, Lake, and Sky
Choose your own custom background color or load your own background image
Toggle to show or hide the current Date & Time
Option to choose for 24h or 12h clock format system
Option to choose your font family
Customizable the Date Today colors
Option to show or hide the search box
Option to choose your default search engine (Google, Bing, DuckDuckGo, or Baidu)
When the search box is active it dims the content around it
Option to show or hide the greeting text (Good morning, Good afternoon, Good evening, and Good night)
Customize the greeting text to your name or any other text you want to see
Option to show or hide the shortcut
You can add, edit and delete all shortcuts according to your personal preference
Support for Dark Mode
This premium Safari extension is engineered from the ground up, to get you the best Safari experience in a simple and user-friendly way. Once you use it as your default Safari home page, you just do not wanna go without it anymore. So get it now the Home Tab for Safari on iOS and Mac! And make it the place to be… home sweet home.