The first complaint that users said is about how to get the menu bar back in Microsoft Edge. I, Stefan Van Damme, as a web browser expert see many users complaining on online forums about the bad user experience when they use the new Microsoft Edge Chromium web browser.
And I understand the pain points of the users when they use this new web browser. And that can lead to a shock for daily Microsoft users. Since the years of Microsoft Internet Explorer, everyone uses and loves to navigate with the classic menu bar. That includes the menu items File, Edit, View, History, Bookmarks, Window, and Help. So they can get quick access to the menu for editing and printing a web page. However, that menu bar is not available anymore in the new Microsoft Edge web browser. Many users do want the menu bar back in Microsoft Edge.
In Apple Safari you have the Apple menu bar to control and navigate your Safari web browser. And in Firefox, there is an option to see the menu bar when you press the alt key on your keyboard. Now in Microsoft Edge, there is no menu bar anymore. The web browser is more designed for touchscreen devices like mobile phones and tablets. And everything can be found in the 3 dots icon near the top right of your Microsoft Edge web browser. It is not a desktop experience anymore. The menu bar is one of the most important accessibility tools to get fast access to certain menus and actions of the web browser.
Menu bar back in Microsoft Edge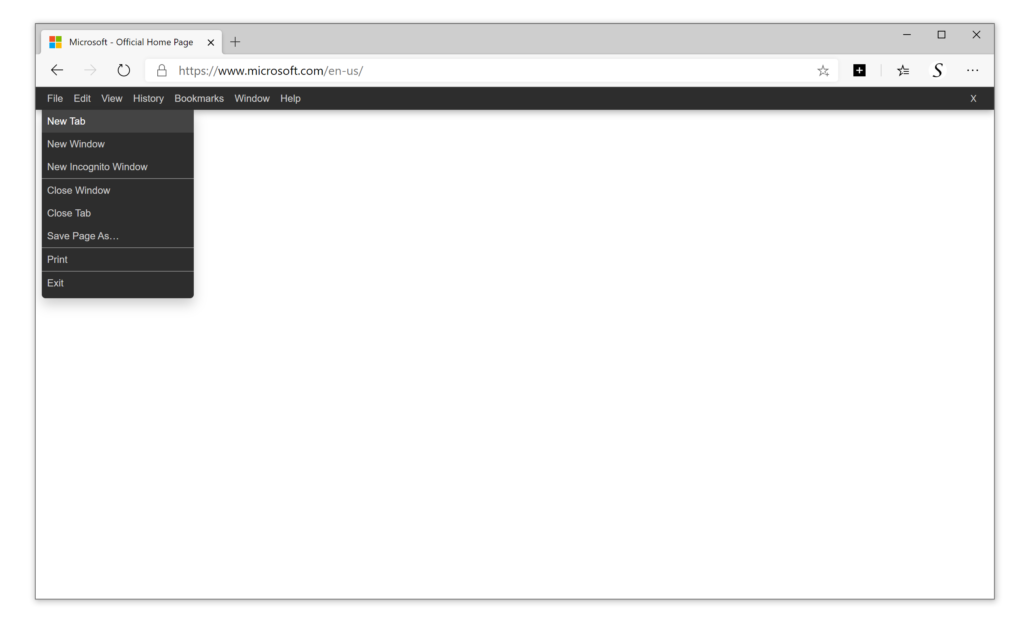 Proper Menubar in Microsoft Edge
I understand the frustration that there is no menu bar on the web browser. That is why I as a web browser expert created this free Proper Menubar Microsoft Edge extension. So users can experience the real classic window menu design in their web browser. That will be visible below the address bar and also in the extension icon as a vertical menu bar. The menu bar back in Microsoft Edge for your web browser's comfort.
Steps on how you can get the menu bar back in Microsoft Edge:
Go to the Microsoft Edge Addons
Click on the blue Get button
And when you open a website, you will see the black menu bar below your address bar
If you want to hide the menu bar you can do it from the black rectangle with the white + icon. Click on the + icon, and click on the big red button to change it from "Proper Menubar is OFF" to "Proper Menubar is ON". Then you see it add this bar on all open tabs.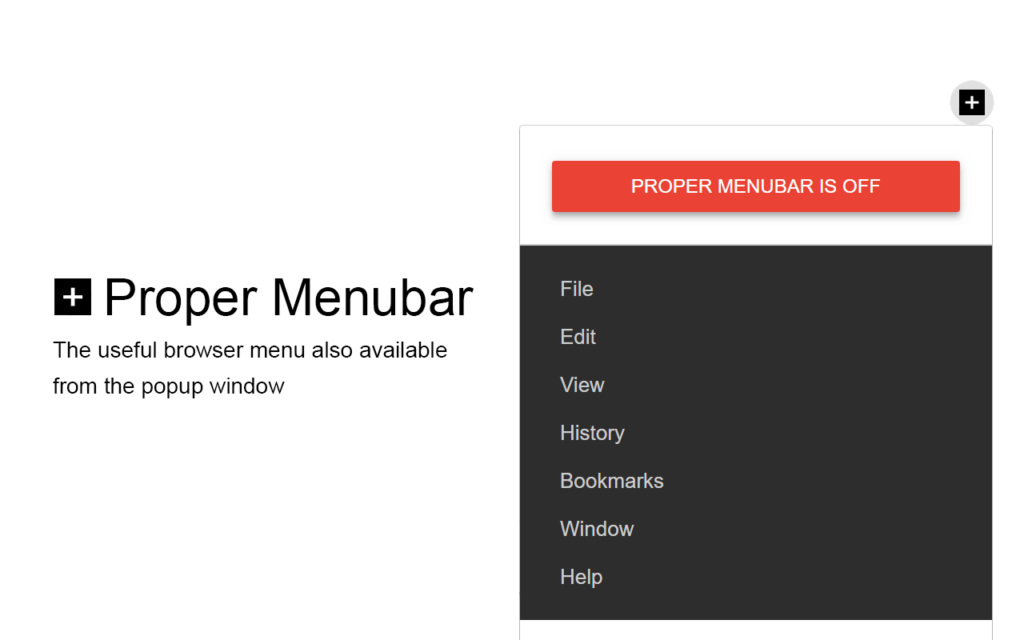 Note: The free and Open-Source Proper Menubar browser extension is for all modern web browsers that support installing browser extensions. And that includes Google Chrome, Firefox, Opera, Vivaldi, Brave, Yandex, and Naver Whale. And you can customize everything to your style.
Now you know how to get the menu bar back in the Microsoft Edge web browser. If you have any questions about the Proper Menubar browser extension. Or if you have any feedback to improve this experience in your web browser. Do not hesitate to contact me. You can always reach my support page. I am are here to help. So you have the best web browsing experience. And can navigate in a familiar and comfortable way.