The launch of iOS 16 Lock Screen Widgets is what everybody is excited about. Apple released in June the next operating system for iPhone and iPad at its Apple WWDC 2022 event. And it is called iOS 16, thereby it has many new amazing features and improvements that help you empower people to do more. Which includes a new revamped lock screen where you can customize this with widgets. These iOS 16 Lock Screen Widgets can be from a shortcut to handy information on your first screen.
Are you testing the latest new iOS 16 Beta 4? Then you have the chance to test today all my iOS 16 Lock Screen Widgets for free.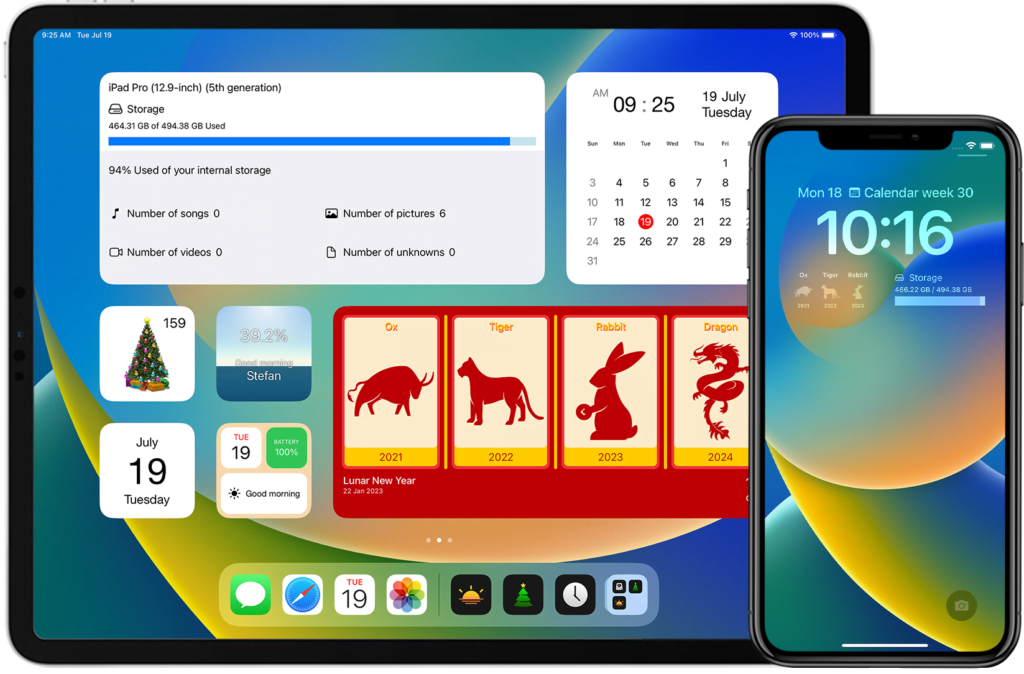 iOS 16 Lock Screen Widgets
Here is an overview of all the lock screen widgets available to test on your iPhone.
Hard Disk – Monitor Disk Usage

Monitor your local storage usage from the new iOS 16 lock screen. So you see a glance at the currently used storage. That is a progress bar widget or percentage number widget.
Date Today – Current Day and Calendar

See the current Quarter, Calendar week number, how many days of the total year days, and timezone on your lock screen.
Sunrise – Day Greeter

See the percentage of the passed and remaining time of the day. Thereby you can customize the start and end time on the settings page. So it math your personal life day rhythm.
My Lunar New Year – Countdown

See how many days when it is Lunar New Year. That is celebrated in Asia and also around the world. And it include also the option to see the zodiac animals as a widget.
My Christmas Tree – Countdown
See how many days when it is Christmas that is an inline widget on top of the current big-time label. Or as a circle or rectangle widget below the time label.
Where can I get the iOS 16 Lock Screen Widgets?
How do I get access to this beta? To test this new experience you must have the latest iOS 16 beta installed on your device. And download the TestFlight app on your iPhone or iPad. Then go to the Stefan vd beta project page, and choose the application you want to test. Please do not forget to feedback on the TestFlight app, that to improve the iOS 16 widget experience even further. I will much appreciate your expertise and suggestions in making these the best widgets for everyone.
All the iOS 16 Widget Bundle support the following families: .accessoryinline, .accessoryCircular, .accessoryRectangular, .accessoryCorner.
The new widget is built with the SwiftUI and it is also available for the watchOS 9. That also supports these new widget formats.
If you need any assistance or help with the installation of the iOS 16 widget, you can contact me using the support form. I am happy to help you and listen to your feedback and suggestions.