Table of Contents
Are you looking for how to fix Windows 11 widgets not working? Then you are on the correct help page. Windows 11, the latest operating system from Microsoft, introduced a range of exciting features, including Widgets. These Widgets offer quick access to information and updates, enhancing the overall user experience. However, like any technology, Windows 11 Widgets can sometimes encounter issues, leaving users frustrated. If you're facing problems with Widgets not working on your Windows 11 PC, you're not alone. In this article, we'll explore various troubleshooting steps to help you get your Widgets back up and running smoothly.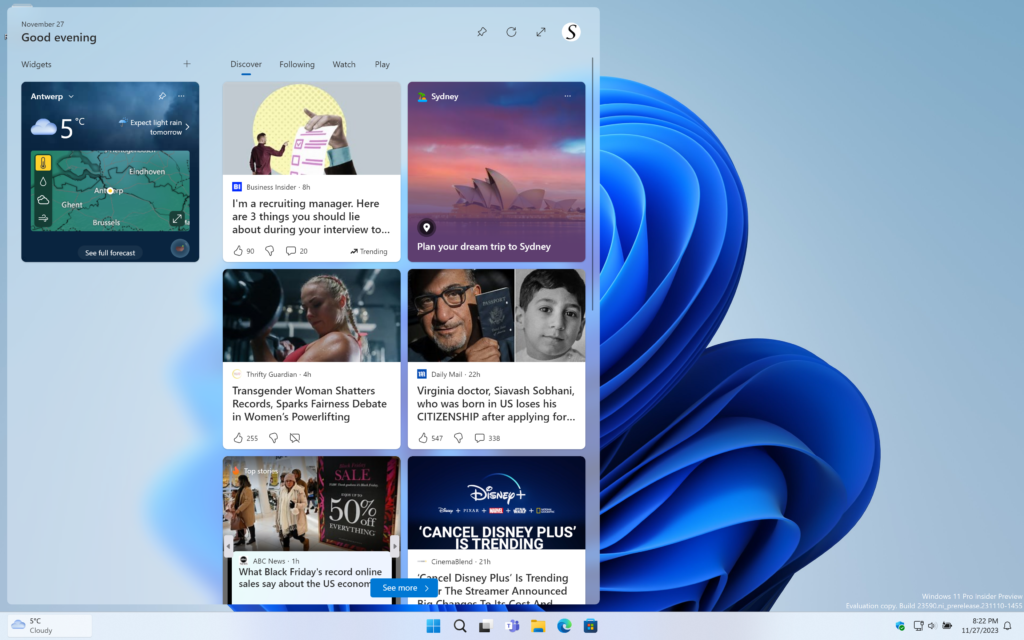 Understanding the Issue
Before we dive into the solutions, let's first understand why your Windows 11 Widgets might not be working as expected. Several factors can contribute to this problem, such as:
1. Software Updates
Outdated or missing system updates can affect the functionality of Widgets.
2. Corrupted System Files
Damaged or corrupted system files can lead to Widget malfunctions.
3. System Compatibility
Ensure that your PC meets the system requirements for Windows 11.
4. Network Issues
Network problems can hinder the Widgets from fetching real-time data.
Troubleshooting Steps
Now that we've identified potential causes, let's proceed with troubleshooting your Windows 11 Widgets:
1. Check for Windows Updates
Navigate to Settings > Windows Update and ensure your system is up to date.
2. Restart Your PC
Sometimes, a simple restart can resolve temporary glitches.
3. Reset Widgets
Go to Settings > Personalization > Widgets, and click on "Reset Widgets."
4. Run Windows Troubleshooter
Use the built-in troubleshooter to identify and fix any Widget-related issues.
5. Reinstall Widgets
Uninstall Widgets and reinstall them from the Microsoft Store.
6. Scan for Malware
Run a full system scan to check for malware that may be causing the problem. Such as the "Malwarebytes" app or the "Spybot Search and Destroy" app.
7. Check Network Connection
Ensure your internet connection is stable and not blocking Widgets.
8. Disable Third-Party Antivirus
Temporarily disable any third-party antivirus software to rule out conflicts.
Examples of the 5 Top best Windows 11 widgets:
Conclusion
Hope this will answer your question about the how to fix windows 11 widgets not working:
how to fix Windows 11 widgets not working
What caused this issue?
Whare is the solution?
In conclusion, Windows 11 Widgets not working can be a frustrating issue, but with the right troubleshooting steps, you can resolve it and enjoy the benefits of Widgets on your PC. By keeping your system updated, checking for software conflicts, and ensuring a stable internet connection, you can enhance your Windows 11 experience.
How to Fix Windows 11 Widgets Not Working: FAQs
What are Windows 11 Widgets?
Windows 11 Widgets are interactive panels that provide quick access to information, such as weather, news, and calendar events, right on your desktop.
Why are my Widgets not updating?
Widgets may not update if there are network issues or if the associated app is experiencing problems. Try restarting your PC and checking your internet connection.
Can I customize my Widgets?
Yes, you can customize Widgets by clicking on the "Edit Widgets" button. You can add, remove, or rearrange Widgets to suit your preferences.
Do I need a Microsoft account for Widgets?
While some Widgets work without a Microsoft account, others may require one for authentication or personalized content.
Are Widgets available on all Windows 11 editions?
Widgets are available on Windows 11 Home, Pro, and Enterprise editions, but the availability of specific Widgets may vary.
how to fix windows 11 widgets not working?
If you looking for how to fix windows 11 widgets not working? The best solution is always to uninstall, restart your computer, and install it again.