Snow - Browser Extension
Snow is a browser extension that adds a visual effect of snowflakes falling down on a website. This type of extension is often used as a fun and festive addition to a website, particularly during the holiday season.
They can be added to most popular browsers, such as Google Chrome, Firefox, or Microsoft Edge, and can be easily installed from the browser's app store or extension marketplace. Provide a snowy experience on any website you want to view on the internet and create your festive atmosphere.
How to add falling snow in your web browser?
Download the Browser Extension
First, download the free Snow browser extension that is available for all major web browsers. That by clicking on the blue download button to get it installed in your favorite web browser. When the installation is completed, you will see the crystal snowflakes icon in your web browser toolbar.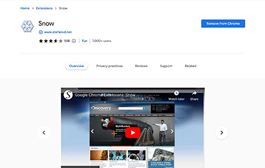 Control the snow blower
With a single click on the crystal snowflake icon in your web browser, you choose to start or pause the dynamic falling snow effect on all open tabs. When you choose to start, you will experience the magic of vacation in all open tabs. And when you choose to stop the effect, you will return to regular.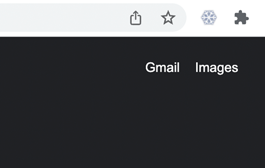 Snow Wonderland
It is the first browser extension since 2010 that give you this magic of the season in a web browser. It turns any website into a snow park with lots of snow blowing and moving in the direction of your mouse on the current web page. That has never been seen and done before to get this snow on an online web page.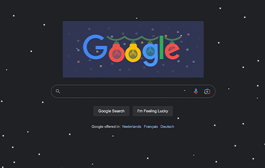 ---
Operation
What is the Snow?
Snow is a free and Open-Source browser extension to let it snow on all web pages. So you enable the Snow enaxtenson it will transfrom from the flat website to a winter wonderland experience on the current web page. That make the website more vivid and add a sense of a feeling. That is great for the holiday season but also outside the season. Such as let it snow in the summer.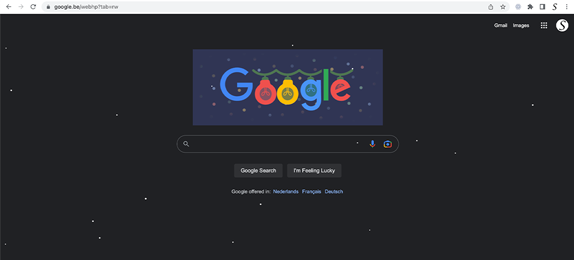 Useful Features
Falling snow effect
So are you looking for the perfect snowy winter experience on the web? Then with the Snow browser extension it let it fall crystal snow flakes on the web page. The snowflake's position is always dynamic, which means that the falling snowflakes are not always on the same position of your web page.It is like riding a Glacier Express train to the in Switzerland from the alpine village of Zermatt between all snowy mountains to St. Moritz.
Snow effect
When you move your mouse over the web page, it also blows the snow effect to a different direction of the web page. It's like a snow blower blowing from the left or right side of your screen.
And when the snow is down. It stays at the bottom of the web page for a few seconds, and then crystal snow slowly melts away.
Experience
It is very easy to use to make all websites snow. So what are you waiting for. Just download the extension and everything is set automatically for your the high quality snow experience. And each time you visit a new (booring) website, it let it snow on this page. And play it together with your favorite Christmas song such as 'All I Want For Christmas Is You' by Mariah Carey or 'Last Christmas' a song by British pop duo Wham!
---
---
Languages
Arabic, Bulgarian, Bengali, Catalan, Czech, Danish, Deutsch, English, English (UK), English (United States), Spanish, Spanish (Latin America), Estonian, Greek, Farsi, Filipino, Finnish, French, Gujarati, Hebrew, Hindi, Croatian, Hungarian, Bahasa Indonesia, Italic, Japanese, Korean, Lithuanian, Latvian, Malay, Malayalam, Marathi, Dutch, Norwegian, Polish, Portuguese (Brazil), Portuguese (Portugal), Romanian, Russian, Slovak, Slovene, Serbian, Swedish, Tamil, Telugu, Thai, Turkish, Ukrainian, Vietnamese, Chinese (Simplified), Chinese (Traditional)
---
Installation of the extension
Over-the-air updates
You always get the latest version of this browser extension. If a newer version is available, the Snow extension automatically updates to the latest version, so you always get the latest and greatest new features. The update packages are small and are completely free.
Available
This is a browser extension and is only available for the modern internet web browsers such as:
Google Chrome
Safari
Opera
Firefox
Maxthon
Yandex
Brave
Vivaldi
Microsoft Edge
Naver Whale
Bookmarks
---
Get Snow from these stores
---
Press Expert Review
Review
Many bloggers and journalists found this to be a great and fun browser extension in its web browser, this brings entertainment and enjoyable winter experience in every new tab you visit.
---
Snow browser extension FAQ
Is the Snow a free browser extension?
Yes, Snow is a free and open-source browser extension for all modern web browsers. That includes Google Chrome, Firefox, Opera, Microsoft Edge, and Naver Whale. And it gives you a realistic falling snow effect on the current web page. That's dynamic, follow your mouse cursor to change the wind direction.
Do you inject ads on all websites when I install this Snow Browser extension?
No, I take the privacy of my users very seriously. And the Snow Browser extension will not do these bad activities. Furthermore, there is no Google Analytics script inside that detects the user browser activity.
Where is the Snow icon in my web browser?
In some web browsers, the newly installed extension is automatically hidden in a puzzle or 3D box icon style. Clicking this button opens the total list of installed browser extensions. And it offers the option to open the Options page, but also to pin the icon to the toolbar of your web browser.
How can I enable/disable the snow effect on all web pages?
You can enable or disable the falling snow effect by clicking the crystal snowflake icon in your web browser's toolbar. That will open a popup window and here you can manage the snow action to stop it.
---
Note: Only available for in the latest version of Google Chrome 33, Safari 10, Opera 15, Firefox 64, Microsoft Edge 76 and higher.