Rotate that Video Player - Browser Extension
How to open your Rotate that Video Player in your web browser?
Download the Browser Extension
First, download the free Rotate that Video Player browser extension that is available for all major web browsers. That by clicking on the blue download button to get it installed in your favorite web browser. When the installation is completed, you will see the Rotate that Video Player icon in your web browser toolbar.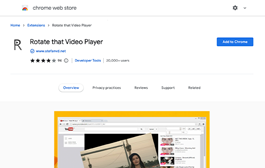 One Click on to open edit panel
With a single click on the Rotate that video player icon in your web browser, it opens your video editing panel where you can rotate the HTML5 video player clockwise or counterclockwise. In your chosen rotate degree value. In addition, you can move the video player up or down on the current web page. So you can have a beautiful center view.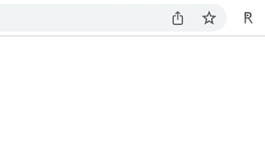 Rotate Video Player
Now you can enjoy the HTML5 video or movie in the video rotation you like. Rotate the video to the point where you can better see and understand the video. It is a brilliant and very important browser extension tool for Vertical Video Syndrome issues on the internet. Where some videos are posted online in incorrect video rotation.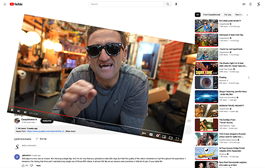 ---
Operation
What is a Rotate that Video Player?
This is the name of the unique browser extension that adds the R button to your web browser's toolbar, allowing you to adjust the rotation of the video player. So with a single click you can open the edit panel and with the button click you can rotate the video 90 degrees clockwise or counterclockwise. Or with the slider, you can adjust the rotation live, such as 180 degrees, 270 or any other degree you choose. That make it a pleasure for your eyes.
How do I rotate a video on my web browser?
It is very easy, and it just takes 3 simple actions (to rotate/flip/transform video), open that video with that vertical video syndrome problem. Then click on the R browser button and click on your rotation button. And that is all, now you can enjoy the video or movie in your new rotation.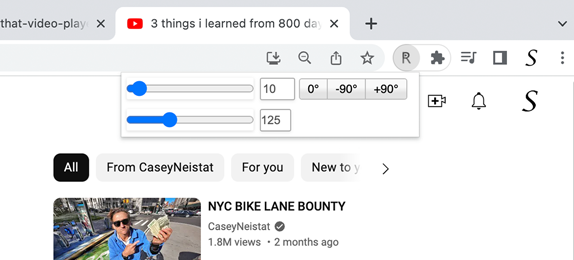 Useful Features
HTML5 Video
The Rotate that Video Player browser extension only rotates the current HTML5 video player in the currently open tab. As a result, the HTML5 video is not reloaded or readded. Each rotation change is performed live with any delay. So in an instant of a degree change, you will see the rotation on the web page.
Buttons
When you open the panel, you will see that it has a fixed button to rotate the video player to that degree value in an instant. That is for a clockwise rotation of 90 degrees, and also for a counterclockwise rotation of 90 degrees. Next it contains the standard 0 degrees button to return the video player to its original rotation value.
Sliders
If you want to move accurately the rotation value, you can move the slider left or right to change the rotation of the HTML5 video player. It also includes a slider to move the video up or down to the current screen page.
Web with Vertical Video Syndrome
The web has problems and users sometimes upload their videos in the wrong way. That resulted in this VSS problem. The VVS is for abbreviation for "Vertical Video Syndrome". It is internet parlance for recording video with an upright mobile phone, like taking a portrait shot and not capturing the video in horizontal landscape mode, as we are used to on the desktop computer, Apple Studio Display, and Apple Pro Display XDR. With Rotate that Video Player browser extension it will solve this web issue. So that you can optimally watch your fun or informative video.
---
---
Languages
Arabic, Bulgarian, Bengali, Catalan, Czech, Danish, Deutsch, English, English (UK), English (United States), Spanish, Spanish (Latin America), Estonian, Greek, Farsi, Filipino, Finnish, French, Gujarati, Hebrew, Hindi, Croatian, Hungarian, Bahasa Indonesia, Italic, Japanese, Korean, Lithuanian, Latvian, Malay, Malayalam, Marathi, Dutch, Norwegian, Polish, Portuguese (Brazil), Portuguese (Portugal), Romanian, Russian, Slovak, Slovene, Serbian, Swedish, Tamil, Telugu, Thai, Turkish, Ukrainian, Vietnamese, Chinese (Simplified), Chinese (Traditional)
---
Installation of the extension
Over-the-air updates
You always get the latest version of this browser extension. If a newer version is available, the Rotate that Video Player extension automatically updates to the latest version, so you always get the latest and greatest new features. The update packages are small and are completely free.
Available
This is a browser extension and is only available for the modern internet web browsers such as:
Google Chrome
Safari
Opera
Firefox
Maxthon
Yandex
Brave
Vivaldi
Microsoft Edge
Naver Whale
Bookmarks
---
Get Rotate that Video Player from these stores
---
Press Expert Review
Review
Many bloggers and journalists found this a great browser extension, to help instantly rotate any HTML5 video player to the correct orientation. And that with support for Dark Mode.
---
Rotate that Video Player browser extension FAQ
Is the Rotate that Video Player a free browser extension?
Yes, Rotate that Video Player is a free and open-source browser extension for all modern web browsers. That includes Firefox, Opera, and Naver Whale. And it will help you quickly rotate any HTML5 video such as on YouTube. That make watching a video comfortable at the correct orientation.
Do you inject ads on all websites when I install this Rotate that Video Player Browser extension?
No, I take the privacy of my users very seriously. And the Rotate that Video Player Browser extension will not do these bad activities. Furthermore, there is no Google Analytics script inside that detects the user browser activity.
What website does this work on?
The Rotate that Video Player browser extension works on all websites where there is an HTML5 video player. That include YouTube, Vimeo, Dailymotion, Twitch.tv, Youku, Bilibili, etc.
How can I also move the video up or down after the rotation?
Yes, in the Rotate that Video Player panel you can use the transition slide to move the current video upward or downward on the current web page. So the HTML5 video player fits well on your computer screen.
---
Note: Only available for in the latest version of Google Chrome 33, Safari 10, Opera 15, Firefox 64, Microsoft Edge 76 and higher.