Note Sidebar - Browser Extension
If you are someone who takes a lot of notes or wants to keep track of important information while browsing the web, you need Note Sidebar. This browser extension is available for Chrome, Firefox and is designed to help you maximize your productivity and streamline your note-taking process. In this page, we will take a closer look at what Note Sidebar can do and why you should start using it today.
Note Sidebar is incredibly user-friendly, making it easy to take notes, store information, and stay organized. The interface is straightforward and intuitive, so you can start using it right away without having to spend hours learning how to use it. Simply install the extension, open a new note, and start typing. It is that simple!
How to open your note sidebar in your web browser?
Download the Browser Extension
First, download the free Note Sidebar browser extension that is available for all major web browsers. That by clicking on the blue download button to get it installed in your favorite web browser. When the installation is completed, you will see the Note Sidebar icon in your web browser toolbar or sidebar.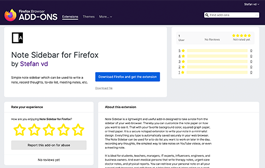 One Click on to open the note
With a single click on the Note Sidebar icon in your web browser, your personal note will open to the left or right (depending on the web browser) and you can easily edit and close your sidebar. In doing so, it will automatically save your note in your settings. And synced to your web browser account.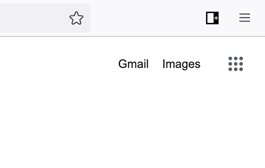 Customizable note
You can type, edit, copy, export your personal note, listen to your written text and even print it individually. You can also adjust the font color and background paper to your favorite color. That for the light and dark mode. And even protect and encrypt your personal note with a secure strong password.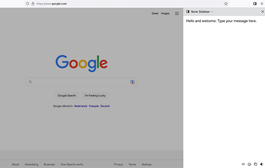 ---
Operation
What is a sidebar?
A sidebar is a panel that is visible to the left or right of your web browser. In the latest Opera, Firefox and Naver Whale, it supports sidebar extensions. So you can have your important element at hand when you need it.
Note Sidebar
Note Sidebar is a unique browser extension to quickly create a note without closing your current web browser tab, or rather collapsed with another tab at the top. With the Note Sidebar you can open it with a single click of a button, and it will be visible to the side of you. That you, depending on the web browser, can choose from the left or right side of your browser.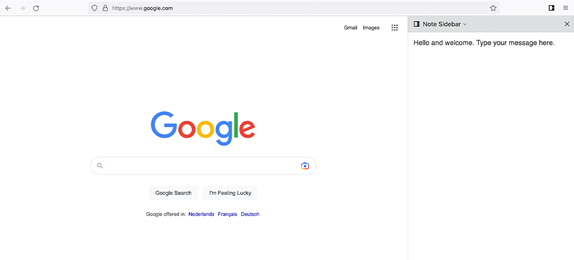 Useful Features
Resizable
The simple notes extension can also be adjusted in width, you can increase or decrease the size of the bar. That about how you want to see more or less content from your notes page.
Notes anywhere
The Note Sidebar remembers your notes and settings even after closing your web browser or restarting your computer. Notes are saved to local storage and synced in your web browser account. So you can get it back in all your synced web browsers. That to have a transfer experience on your desktop computer to your personal laptop. The note is synced.
Buttons
When you open the Note Sidebar Options page, you can customize the sidebar to make it more personal to your style. In addition, you can copy button, print, text to speech, text voices and display the number of characters.
Context Menu
You can select any text on a web page, and with right click you can add it in your notes.
Design
In the design tab you can change the text color and background color. And that for Light and Dark Mode so that it is comfortable for any time of the day or night.
Password
Privacy is also very important to me, in the Note Sidebar there is an option to lock and encrypt your personal note. It is encrypted with Base64 which is not human-readable. Your note is only saved in your synced security account.
Export
On the Options page, you can export your note to a TXT file for further editing in your Notepad, Pages, or Microsoft Word.
---
---
Languages
Arabic, Bulgarian, Bengali, Catalan, Czech, Danish, Deutsch, English, English (UK), English (United States), Spanish, Spanish (Latin America), Estonian, Greek, Farsi, Filipino, Finnish, French, Gujarati, Hebrew, Hindi, Croatian, Hungarian, Bahasa Indonesia, Italic, Japanese, Korean, Lithuanian, Latvian, Malay, Malayalam, Marathi, Dutch, Norwegian, Polish, Portuguese (Brazil), Portuguese (Portugal), Romanian, Russian, Slovak, Slovene, Serbian, Swedish, Tamil, Telugu, Thai, Turkish, Ukrainian, Vietnamese, Chinese (Simplified), Chinese (Traditional)
---
Installation of the extension
Over-the-air updates
You always get the latest version of this browser extension. If a newer version is available, the Print extension automatically updates to the latest version, so you always get the latest and greatest new features. The update packages are small and are completely free.
Available
This is a browser extension and is only available for the modern internet web browsers such as:
---
Get Note Sidebar from these stores
---
Press Expert Review
Review
Many bloggers and journalists found this a great browser extension, to help and write instantly is quick note in the sidebar. And that with support for Dark Mode.
---
Note Sidebar browser extension FAQ
Is the Note Sidebar a free browser extension?
Yes, Note Sidebar is a free and open-source browser extension for all modern web browsers. That includes Firefox, Opera, and Naver Whale. And it will help you quickly write your personal note in the sidebar. While reading or enjoying the content you are viewing.
Do you inject ads on all websites when I install this Note Sidebar Browser extension?
No, I take the privacy of my users very seriously. And the Note Sidebar Browser extension will not do these bad activities. Furthermore, there is no Google Analytics script inside that detects the user browser activity.
Can I change the text and background color of the note?
Yes, on the Options page for the Note Sidebar browser extension, you can choose your favorite color and background color. That for the Light and Dark Mode, so it is comfortable for your day and night use.
How can I lock my personal notes?
Open the Note Sidebar Browser Extension Options page and in the Advanced Options tab you can enable the password feature. That encrypts your text note before it is saved, and only the person with a password can read and edit it.
---
Note: Only available for in the latest version of Opera 34, Firefox 77 and higher.