Welcome on the Print Chrome extension for Google Chrome
Latest Important Update you need to know
Add two new Print icons: animal and human paw feet
Option to save your current web page in HTML and PDF file type
Build for TOUCH screen and DESKTOP screens with a mouse
---
Let's Get It Started - Print
Simple and easy to use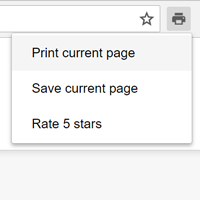 Print is a lightweight and the ultimate tool where you can print fast your current web page with a single click on the button. With this shortcut icon in your web browser toolbar, you can print everything on the web. Such as photo printing, poster printing, business cards, manuals printing, invoices, etc.
Also, in this Print browser extension you can click double click on the Print button, and save the current web page in the HTML or PDF file. So, you can open later back your own saved web page on your default viewer program such as Adobe Acrobat Reader (for the PDF file). And that is just the beginning of your personal experience.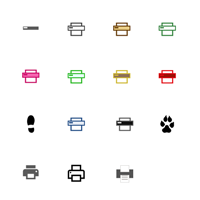 The Print browser extension works well with all major printer companies such as Hewlett Packard (HP), Canon, Panasonic, Lexmark, Samsung, and Toshiba.
Your own personalised icon
Personalize the Print button to your own style. One of the most amazing feature is that you can change the icon design in the Print Browser extension Options page. You can choose between 5 design icons, 2 classic icons, 2 animal style icons and a Google Material Design icon.
Every icon is designed for your web browser theme taste. If you use a dark browser theme, you can choose for a sweeter light printer icon. So you see clearly the icon on top of your web browser toolbar. Want it classic like in the years 98? Then you can choose the old fashion bold printer icon where you can see that it print out that paper.
Also, I completely reimagined the Print button in a more nature way. There is a human feet icon, and an animal foot print as button icon. Great if you are a nature and animal lover. You can change the icons to your favorite print icon the in Print Browser extension Options page, see in the Basic tab page.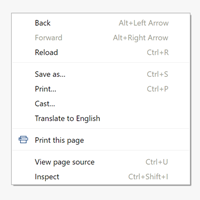 Right click menu to Print
Most web browsers are so slim in design, but ignore the most important part in the context menu. Or better know for the user as the right click menu on a web page. In this right click menu, you can do many actions such as search the web or show the source code of this page. Now with the Print Browser extension you can also see the shortcut to print this page. And if you click right on an image, you print only the selected image on a new page.
Major browser tool
This browser extension is available for all major web browsers such as Google Chrome, Firefox, Opera, Safari and Microsoft Edge. It is designed for simplicity for all internet users. I hope you like this free and open source browser extension. And you can always support this project with a small donation.
Google Chrome
Firefox
Opera
The Best Browser extension
Print Browser extension is rated 4 on the 5 stars. Many bloggers and journalists found this great browser extension, where you can print fast your draft to the local or online printer on your network.
Support
If you need any help or experience an issue with this Print Browser extension. Do not hesitate to contact me on this support page. I am happy to assistent you. Also, feedback is welcome to improve this open source browser extension for your web browser.
Support


Windows 11 user? Try something with the free Windows 11 widgets